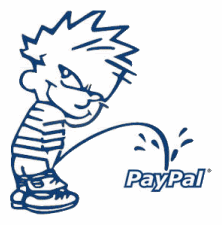 The first story came last night on digg. Website deadspin created a paypal account for donations to a soldier's memorial fund because they thought it would be the easiest for people to use, but paypal has
locked up their funds
. It appears that because paypal set their account up as a charitable organization, but they are not, and have no paper work. Paypal has since locked up all funds because they cannot prove that they are a charitable organization. The post is appropriately title to influence anyone who sees the title: "Paypal Doesn't Want Slain Soldiers' Families To Receive Aid."
The second story that I found today involves
ebay requiring paypal verification to sell an item
. In the comments, some people have noted that it could be because the seller is a high volume seller, but even then it doesn't make any sense of why you would need to verify a paypal account.